You Wash the Dog — We Clean the Mess!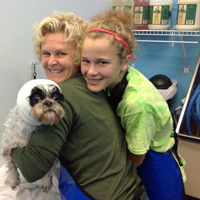 Enclosed self-service wash bays minimize stress on dogs, and they're equipped with waist-high ramp-entry tubs to save on backaches and sore knees — no lifting, bending, or kneeling necessary.
A special pet-bathing system accurately mixes and dispenses the right amount of water and shampoo, through a precision-pressure nozzle ideal for down-to-the-skin washing and fast, thorough rinsing.
All supplies are included, such as aprons, all-natural shampoos and conditioners, eye and ear cleaners, special dog dryers, and grooming tools.
No Appointment Necessary for Self Service!
Short or Medium Coat
Small (0–25 lb)
$15
Medium (26–50 lb)
$17
Large (51–90 lb)
$20
X-Large (91–120 lb)
$22
Giant (>120 lb)
$25
Thick or Double Coat
Small (0–25 lb)
$17
Medium (26–50 lb)
$19
Large (51–90 lb)
$22
X-Large (91–120 lb)
$25
Giant (>120 lb)
$28
YOU DIRTY DOG'S STORE RULES
Dogs must be on leash and under control at all times.
Do not leave pets unattended at any time.
For health and safety reasons, we recommend that puppies be over 4 months, with all their puppy shots, before you bring them to the shop.
Disruptive and/or aggressive dogs may be asked to leave, at management's discretion.
Please be courteous to our neighbors, and clean up after your dog. See us if you need a bag.
Any skunked dog must be pre-treated with a proven, commercial skunk product before entering the shop. We sell Skunk-Off for your convenience.
It is our right to refuse service to anyone who does not comply with these policies.